Documents and Additional Job Details Drill Through Fields
Features: New Documents Page and Job Details Drill Through Fields Additions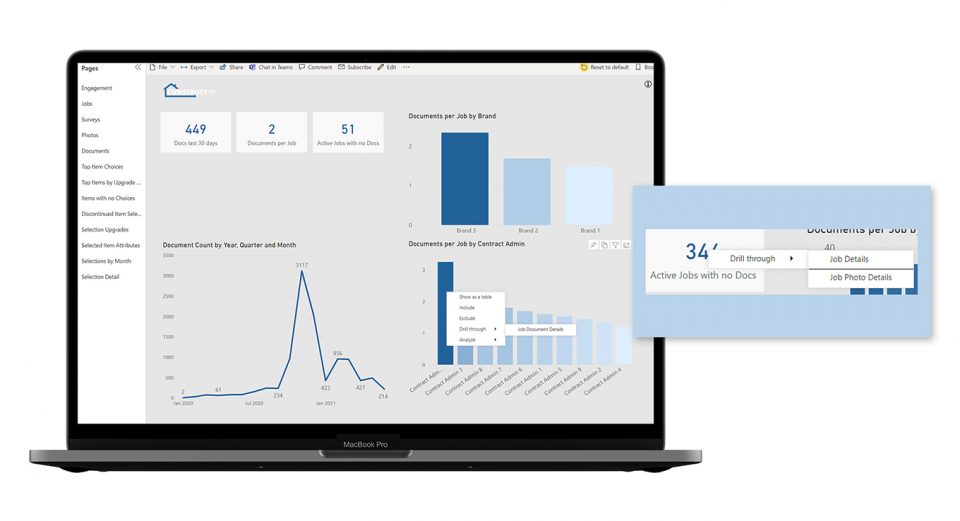 1. Documents Page
This release, we've introduced a new feature – Documents, giving you deep visibility into the documents uploaded to jobs in Constructive. Documents analysis can help you ensure compliance and approval paperwork is consistently being uploaded to jobs.
2. Documents Counts
You can now see counts of documents added in the last 30 days and active jobs that have no documents uploaded.
3. Documents Detail 
Drill through to Job Details from Active Jobs with no Documents. See Documents per job by Brand and Contract Admin and the Document count over time.
4. Document Counts per Contract Admin
Drill through from a Contract Admin to Job Document Details to view the document count for each job they are assigned to. Click the Job Link to see the job in the Constructive admin portal.
5. Other Features Added
Additional fields Job Status, Sales Person and Job Link have been added to the Job Details drill through page.
Tip!
Unsure of the content on a report page? Simply hover over the info icon ⓘ in the top right of each page to see the page definitions.